The Ice Runner Expedition is the BEST VALUE in a SPACIOUS, INSULATED three-person shelter!
Families and guides have a long list of features they want in an ice fishing shelter. There are dozens of shapes and sized to choose from. There is no consensus – EXCEPT everyone agrees that the IDEAL shelter for multiple people should have the:
1.MOST enclosed fishable area for anglers, heaters, and gear, but

2.LEAST total weight for ease of transport on and off the ice, and

3.LOWEST package price for the shelter, sled, and anchors.
Ice Runner is a new brand that has entered the competitive "family-size" ice house market. We surveyed the available options and designed a new, innovative option. Compare size, features, and price and you will AGREE that the Ice Runner Expedition combines UNMATCHED design and enclosed space with the LOWEST cost.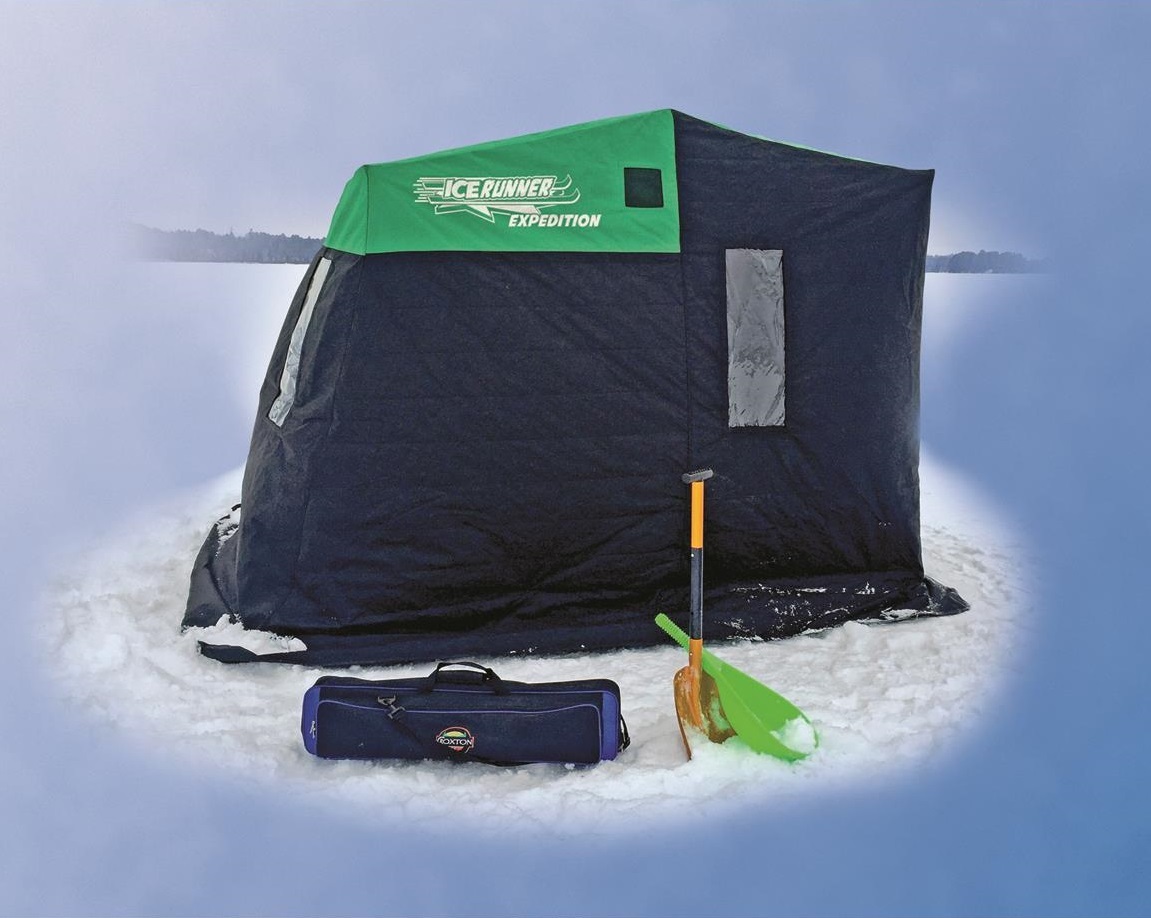 The Ice Runner Expedition is built on a tough, low-profile sled. The collapsed Expedition is ONLY 84" long x 46" wide x 12" high. This compact package weighs ONLY 69-pounds – that's 50% LESS than many competitive models! One person can easily pull this large house without a snow machine.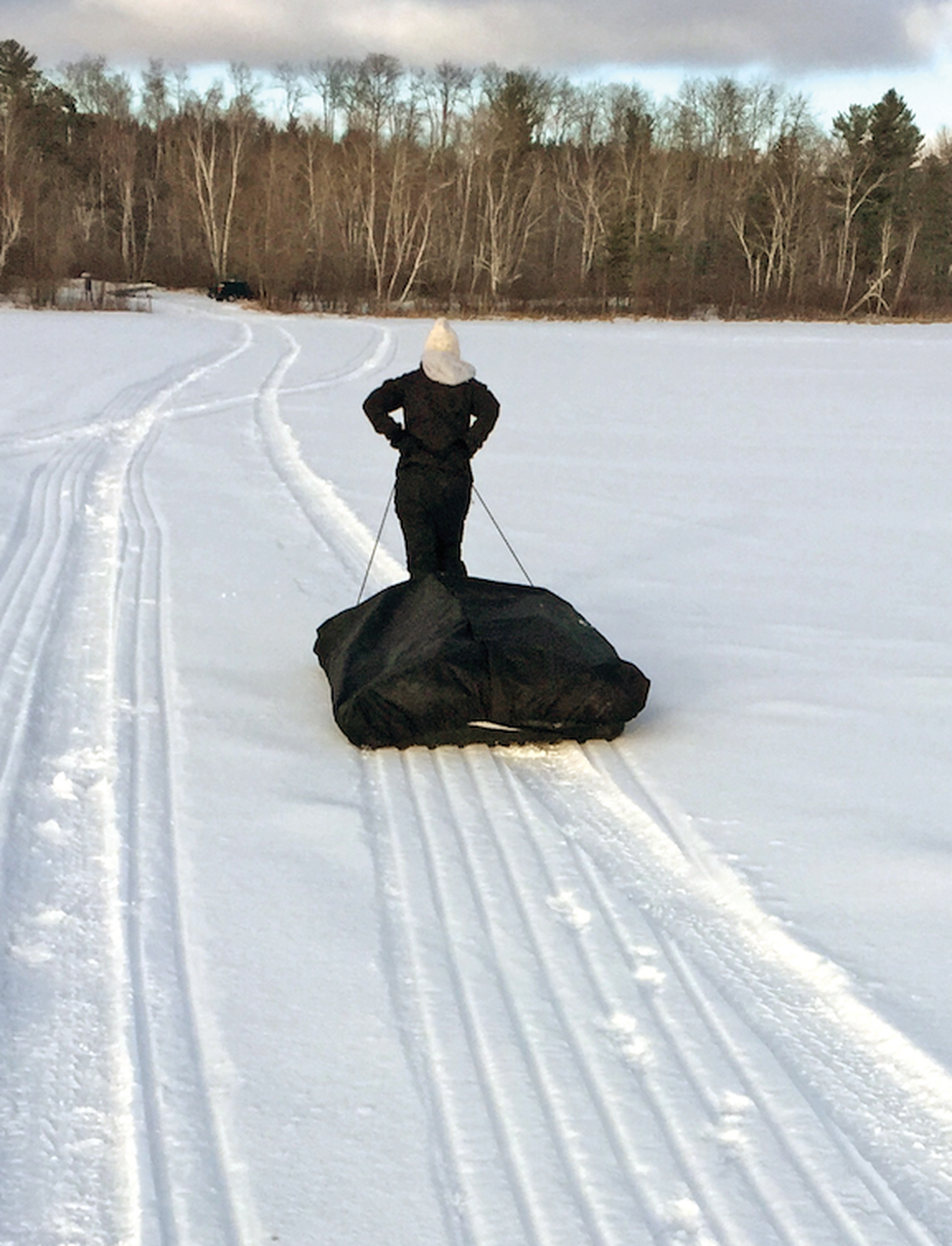 But the Ice Runner Expedition is not thin, noisy nylon. The Expedition (like ALL Ice Runner shelters) is constructed with quality, warm 600 Denier FULLY INSULATED quilted material. No one wants a thin, uninsulated nylon tent anymore. The first thing added to most ice houses is a propane heater. When you add three anglers and open ice holes an uninsulated tent will rain on you! The Ice Runner Expedition is fully insulated: side walls and ceiling. You stay warm and enjoy added stability out on the cold, windy ice.
The Ice Runner Expedition opens fast with a series of heavy-duty aluminum extension poles. The poles are engineered for extra rigidity and easy extension. Large push buttons allow one person to put up or take down the house in two minutes. The opened Expedition gives you UNMATCHED 74-inches of headroom in a three-person house.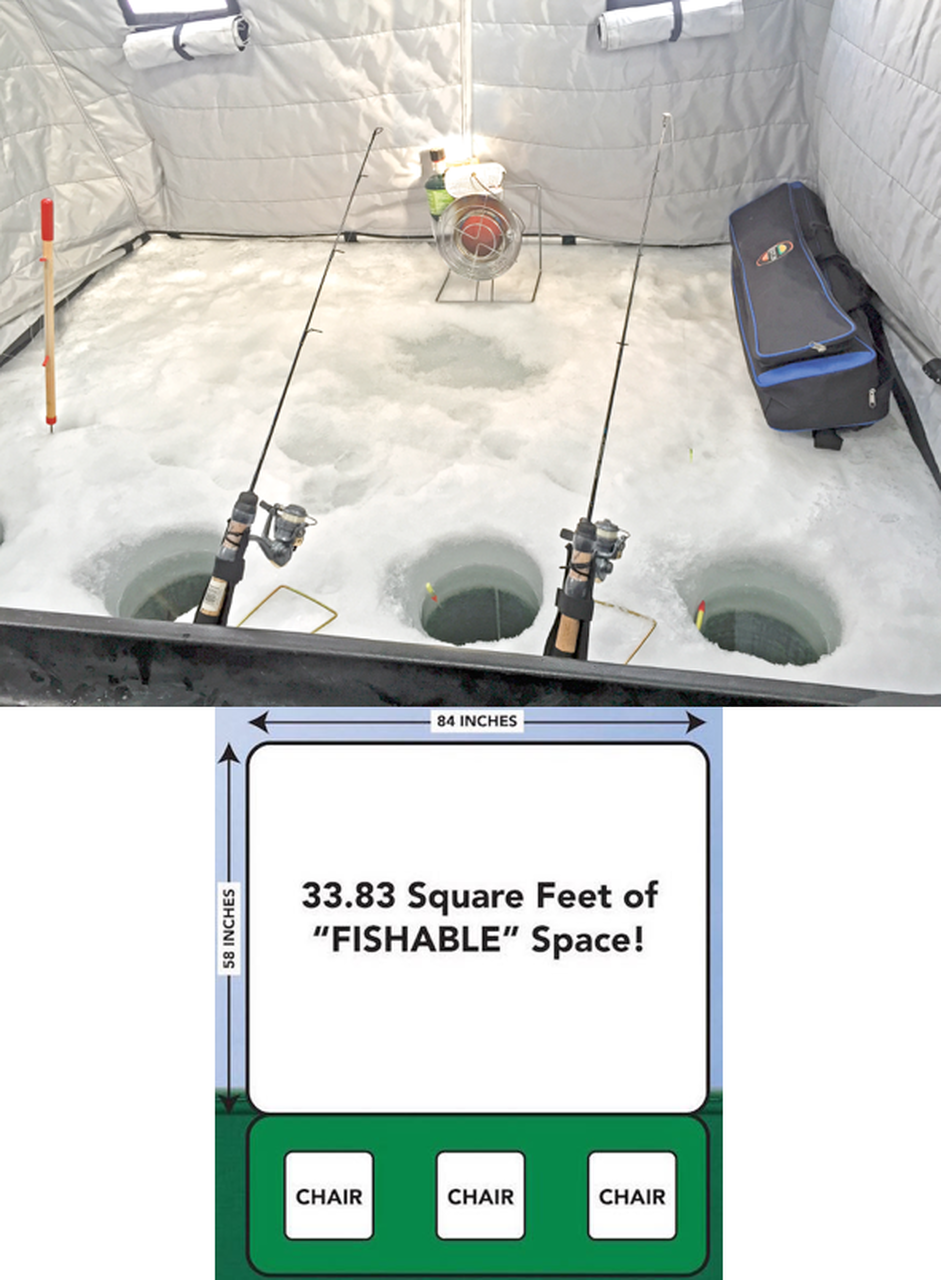 The extra-long poles provide the MAXIMUM fishable area. The Ice Runner Expedition opens to an interior "floor space" that is 84" wide x 58" deep. That is 33.8 square feet of UNOBSTRUCTED ice! (The Expedition has nearly DOUBLE the fishable space of two-person houses, including our Ice Runner Explorer.) This HUGE ice area remains unobstructed with the EXCLUSIVE Ice Runner back door entry. You enter and exit from the REAR of the shelter via a huge zippered door and the dry sled. NEVER step on the wet, slippery ice or climb over your holes, rods, heater or locator again.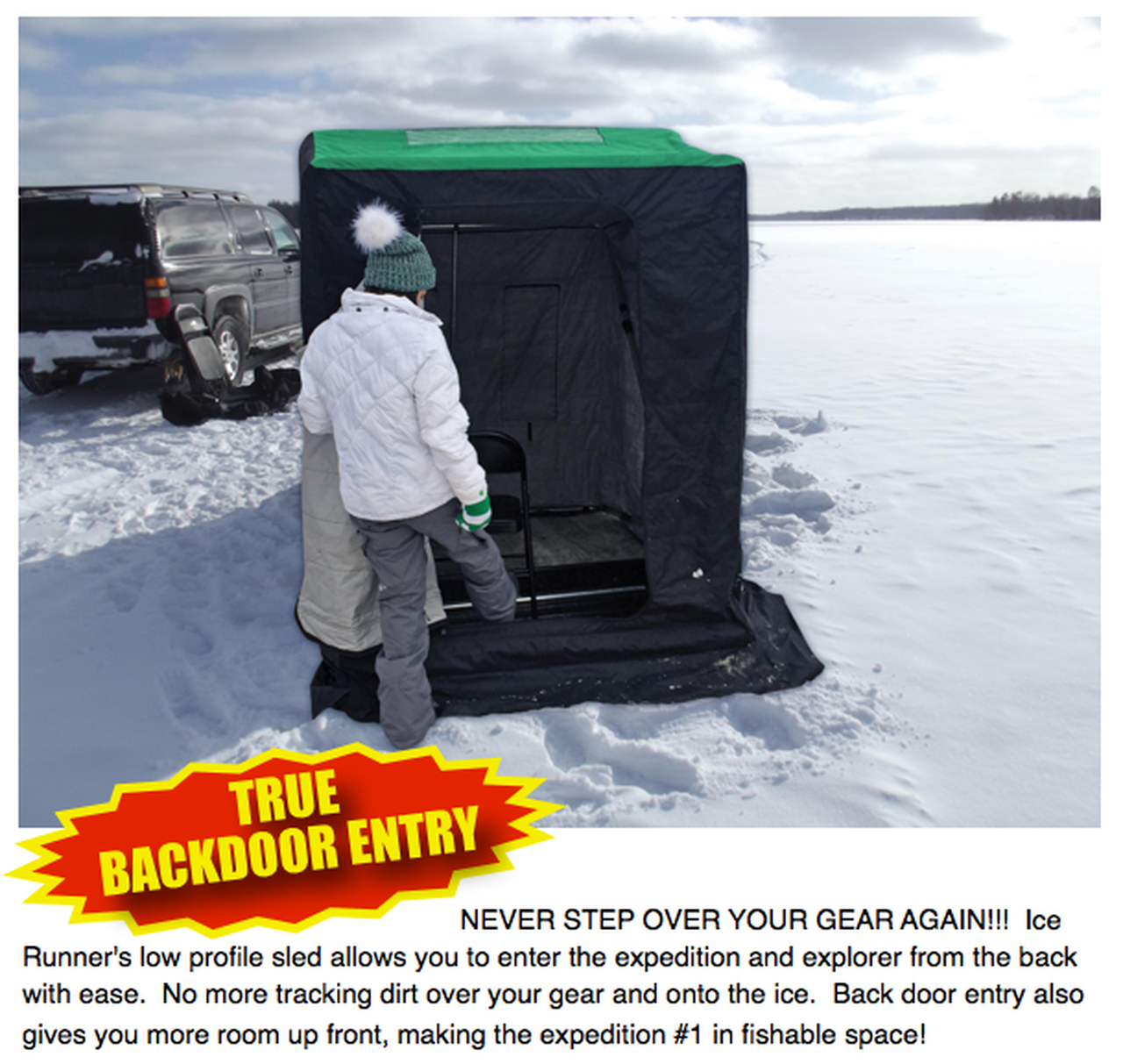 The Ice Runner Expedition is built for the way you and your family fish. Two gear pockets are sewn into the side walls. There are FOUR huge, vertical windows – plus a SKY LIGHT – for maximum interior light and viewing tip-ups spread around the shelter. Or seal the windows tight to black-out the interior for sight fishing or spearing. Flaps are attached to the outside apron of the house to seal in heat and eliminate drafts. There are also exterior anchor points if you need to stake out the house on glare ice. The shell has side vents and reflective patches on all four sides. Ice Runner even includes a clear exterior envelope for your ID license info – if required in your state. We have included EVERY feature you asked for in a family-size, Guide-quality COMPLETE ice fishing sled shelter!
Ice Runner has eliminated fixed, heavy built-in seats. No seats are included because everyone fishes differently – and has different requirements from day to day. Add the folding chairs, bench or buckets that match your style. Store two or three seats depending on the day. Enjoy the added space, versatility and ease of entry not possible with bulky seats that are bolted to the sled.
The Ice Runner Expedition is designed to be the PERFECT sled ice shelter for two or three anglers. It is warm and roomy. There is space for six holes, plus tackle, a heater and locators. But the Expedition is not too large, too heavy, or too complicated for one angler to assemble. The light, low profile sled pulls easily. Compact and weighing less than 70-pounds, the Expedition fits easily in your truck bed. The Ice Runner Expedition has plenty room for three people – and is pure LUXURY for two hard-core anglers!
See the Ice Runner Expedition in action on the ice in this video:
On top of ALL these standard features which make fishing easier and more comfortable, Ice Runner ensures the Expedition is your BEST VALUE by including a FREE sled cover with every house. That's a $50.00 FREE bonus! The middle zipper on the sled cover provides fast access to all your gear without removing the cover. The roomy sled will store your auger, buckets, heater and fishing gear with room to spare.
What do Ice Runner Expedition owners have to say about this BEST VALUE sled ice house? Here are a few FIVE Star reviews from our website:
Great house lots of room easy to load and set up by yourself. The access being in the back is the only way to go.
Terry from Taconite, MN
I use this house for angling and spearing. The many windows make it great for angling and still is dark enough to spear with windows covered. Low profile sled with mid zipper cover carries all equipment and stores easily. Highly recommend this house.
Brian from Bovey, MN
Since the lakes are not all froze over, I was forced to fish a lake I had not been on before. The walk from the landing was much longer than I wanted it to be. I don't think I would have been able to drag my other house this far but my Ice Runner made the walk easy. So light and smooth on the ice. Every time I use this house I find something else I like about it, so I'm glad bought this house.
Larry from Minnesota
Roomy shack. It's got plenty of room and easy to setup and tear down. I only got to use it a couple times this year. A couple of my friends got to fish out of it with me and they liked how big it was, also. One guy really like the storage pockets and how easy it was to heat for as big as it was. I'm definitely looking forward to getting it out more next winter!
Quincy from Brooklyn, IA
Big and Easy. I love walleye fishing which means late night action. Fished out of portables for over 30 years and often got frustrated with taking them down in the dark. This by far has the easiest setup and take down process I have used. Very warm house as well, last weekend coats off and no heat needed much of the day in 15-degree weather.
Jay from Wadena, MN
Ice Runner stands behind their loyal customers with FREE replacement windows for the life of your shelter. All the windows are replaceable (Velcro all the way around) and come with a lifetime warranty. Just send any cracked windows back to us for free replacement!
The Ice Runner Expedition requires only minor assembly of the folding poles. (See the assembly instructions below.) But – if you prefer or for gifts - let us assemble your house for you! Ice Runner will fully assemble your fishing shelter, so you only need to unwrap it and go fishing! (Optional additional $50 assembly fee.)
Ice Runner gives you the option to add a tow hitch for pulling your Expedition with your ATV or snowmobile. For added strength and protection when towing a loaded sled, Hyfax runner kits are also available for the Expedition.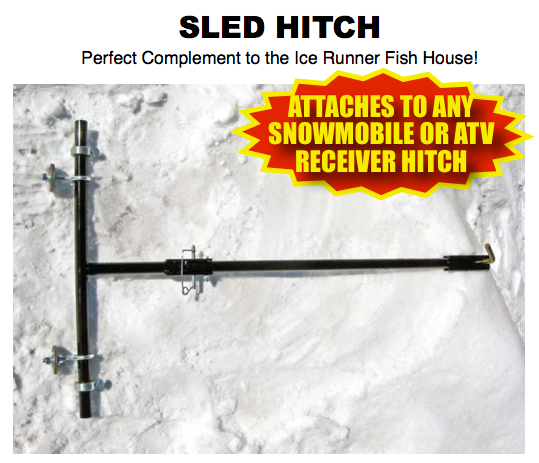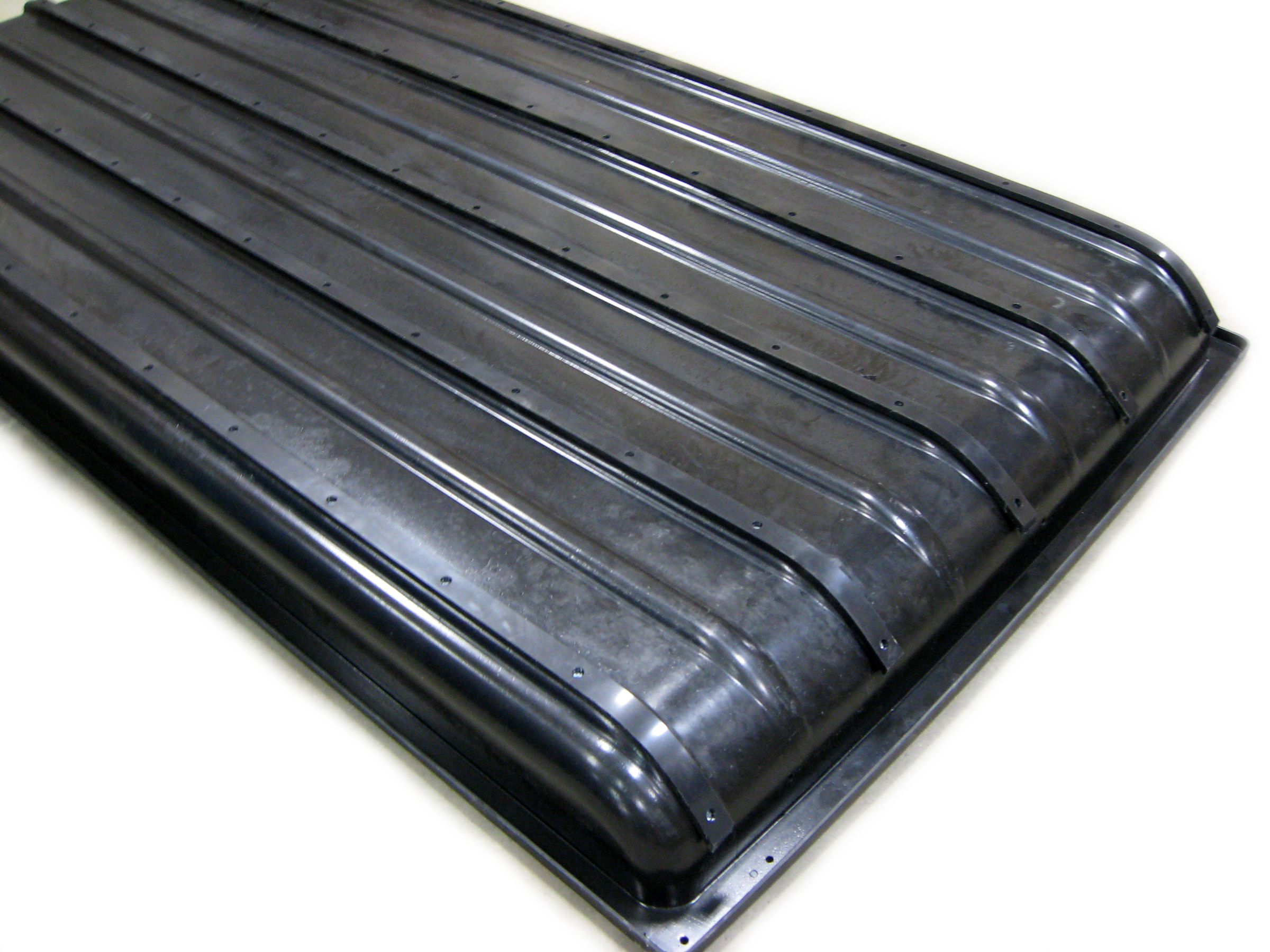 Ice houses large enough for family, friends, or clients have gotten too heavy, complicated and expensive. You could spend over $1,000.00 for a comparable insulated shelter. But then you would still have to buy a cover – AND have LESS fishable area, LESS headroom, and a much HEAVIER shelter. Compare size, features, and price and you will AGREE that the Ice Runner Expedition combines UNMATCHED design and enclosed space with the LOWEST cost.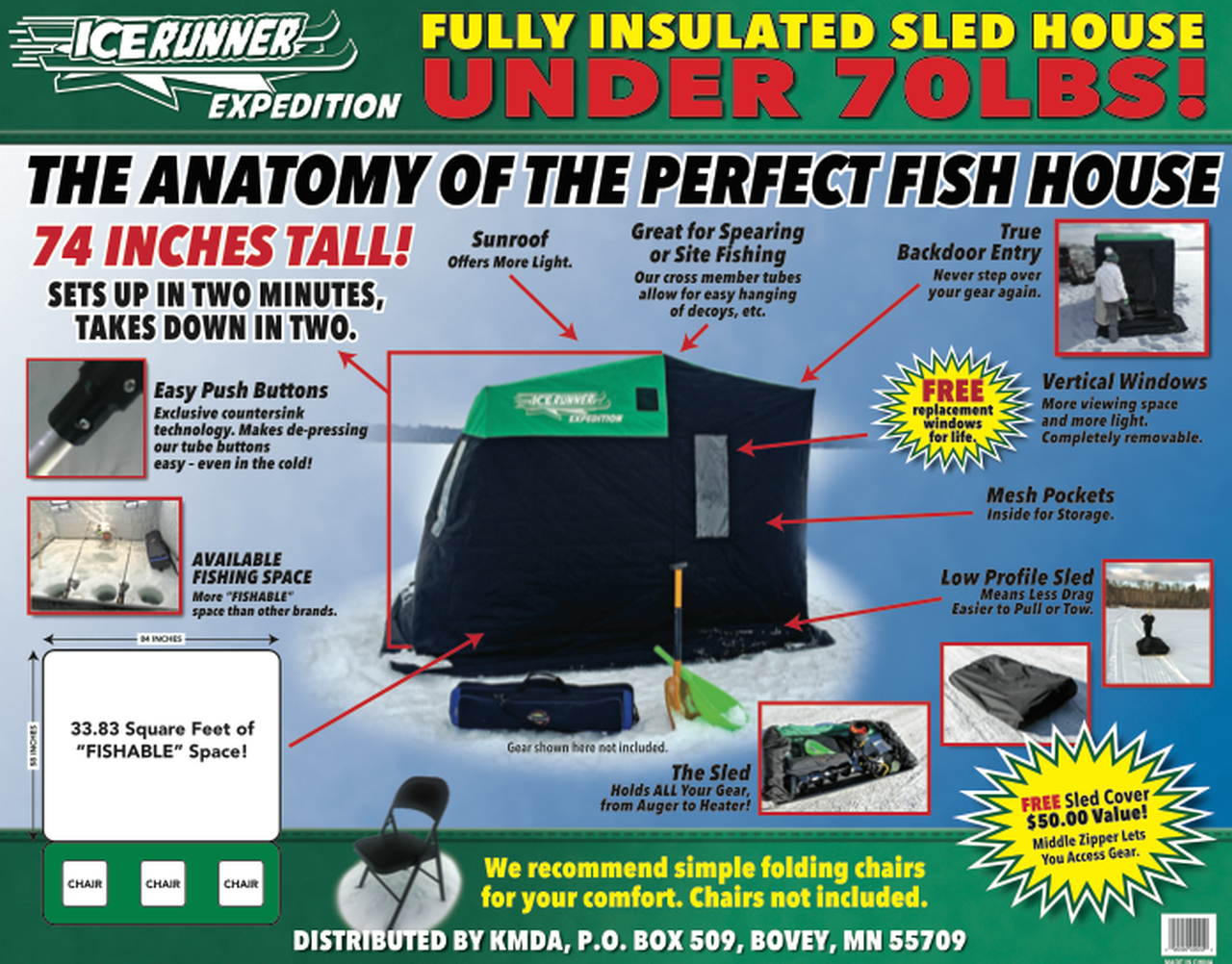 ICE RUNNER EXPEDITION ICE SHELTER SPECS:
Angler Capacity: 3
Collapsed Size: 84" long x 46" wide x 12" high
Set-up Total Footprint: 84" wide x 104" deep x 74" high (not including snow apron)
Interior Ice Floor Space: 84" x 58" (not including sled)
Fishable Area: 33.8 sq. ft.
Assembled Height: 74"
Total Weight: 69 lbs
Framework: Aluminum poles (3 pole system, collapsible)
Windows: 4 vertical side windows, removable, with covers plus sky light
Door: Rear Entry
Gear Pockets: 2
Fabric: Fully Insulated - 600 Denier
Optional:
Full assembly of extension poles
Tow hitch for ATV or snowmobile
XL Hyfax sled runners for Expedition sled

Ice Runner Houses (IceRunnerHouses.com) are distributed by KMDA, Inc. Visit KMDAInc.com to see the full range of ice fishing equipment and tackle from Lakco and Croxton. KMDAInc.com is also your source for open water fishing, including brands like Wing-It sinkers and bobbers, VibE Blade Baits, and Pro King spoons and flashers.